Quality is our top priority
Nestled in the historic downtown of our city, Diane's restaurant has been a beloved institution for over 15 years. Founded by Diane Smith and her family, this cozy yet elegant eatery has become known for its outstanding fine dining cuisine, desserts, wine list and warm, welcoming atmosphere.
Diane's uses only the freshest local and organic ingredients to create seasonal menus that reflect the best of what's available in our area. The talented chefs expertly prepare everything from mouthwatering appetizers to perfectly cooked steaks and chops to decadent desserts like their signature chocolate lava cake. Every dish is made with care and artistry, resulting in creative culinary masterpieces bursting with flavor.
In addition to fabulous food, Diane's offers an award-winning wine list with over 200 selections. Whether you prefer a bold Cabernet or a crisp Chardonnay, their knowledgeable sommeliers can pair the perfect glass with your meal.
At the heart of Diane's success is a true commitment to community. Many of the staff have been working at the restaurant for years, welcoming loyal regulars as old friends. Diane's supports local farmers and purveyors, and is actively involved with community charities and events.
Diane's outstanding cuisine, service and community spirit have earned high praise from food critics and magazines. They have won numerous awards over the years, including Best Fine Dining Restaurant and Best Chef from Local Magazine for five years running.
More than a great place to eat, Diane's restaurant feels like dining with family. It's a beloved special occasions destination as well as a spot for an everyday lunch or dinner. Come visit us and taste the love in every bite.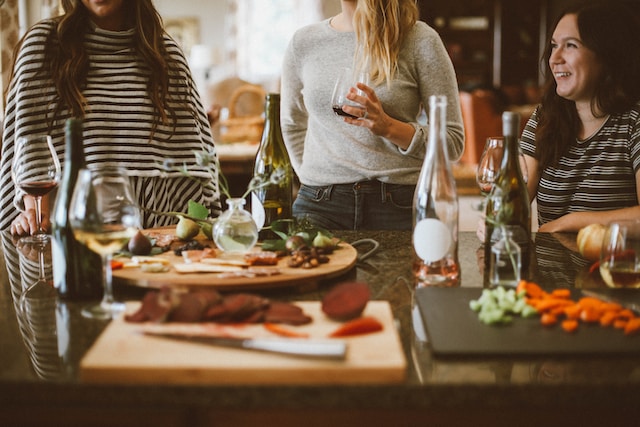 MEET THE CHEFS
Diane Smith – baker owner
My culinary career has been in the process for about 30 years. I started with an Associate Degree in the Culinary Arts. After winning an award for Best Apprentice in the State (New Mexico) from the American Culinary Federation, I completed an apprenticeship with Master Pastry Chef, Milos Safark.
After that, I worked for The Ritz – Carlton and Stouffer's Wailea Beach Resort in Hawaii and then for the largest luxury hotel in Santa Fe, The El Dorado.
I had family ties to Silver City and returned here and opened a small bakery in1996. Baking is my true love, But! Diversifying and offering more options to the community has been rewarding.
Learn more
Why choose us
Expertly crafted cocktails
Diane's talented bartenders create incredible hand-crafted cocktails using fresh ingredients. Try their refreshing Moscow Mule with ginger beer or their signature Old Fashioned with bourbon soaked cherries.
Intimate atmosphere
The warm, cozy dining room creates a romantic ambiance perfect for date nights or special celebrations. Dim lighting, fresh flowers on each table, and acoustic music enhance the intimate feel.
Extensive wine cellar
With over 200 bottles on their wine list, Diane's cellar has rare finds and old world classics. Their wine director enjoys helping guests select the perfect bottle to complement their meal.
Seasonal tasting menus
Diane's offers tasting menus that change throughout the year to showcase what's freshest. With expert wine pairings, it's an unforgettable culinary experience. Five or seven course options available.
From hand-shaken cocktails to stellar wines to unparalleled service, Diane's provides a complete fine dining experience. Book your reservation today to enjoy one of the best meals in town!
Our chefs
Our most secret recipes!
At Diane's, food isn't just sustenance – it's art. And the talented chefs are the artists, using fresh seasonal paints to create edible masterpieces infused with love. Come experience their craft yourself at one of the most awarded and beloved restaurants in town.
Jonathan White
Senior Chef